I was using the new
Google Maps
Street View to check that I had the
correct gas station on Concord Pike (202) north of Wilmington
the other day and I discovered something humorous. Normally the street view just shows the view progressing step by step along the road. As I "travelled" up Concord pike with street view we suddenly turned into the McDonald's and went through the drive through. It was unexpected. The Google Maps software thought that we were on 202 and the official yellow line that indicates the street also says Concord Pike, but you can clearly see that they went to McDonald's. The
animated gif
below shows the detour.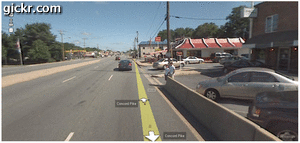 At Google Maps, you can see the street view
just before the McDonald's
, and then
in the drive through
. You can click on the arrows in the links to duplicate the path in the animated gif. I never would have found this except by accident.
I guess they got hungry. Looking up and down Concord Pike in street view shows that they turned into the parking lots a few times.